Glamping in Ireland has become increasingly popular, with the number of glamping sites in Ireland rising every year. Due to the number of new glamping sites in Ireland and the standards of glamping sites in Ireland increasing, we have compiled.
Portsalon Luxury Camping, Donegal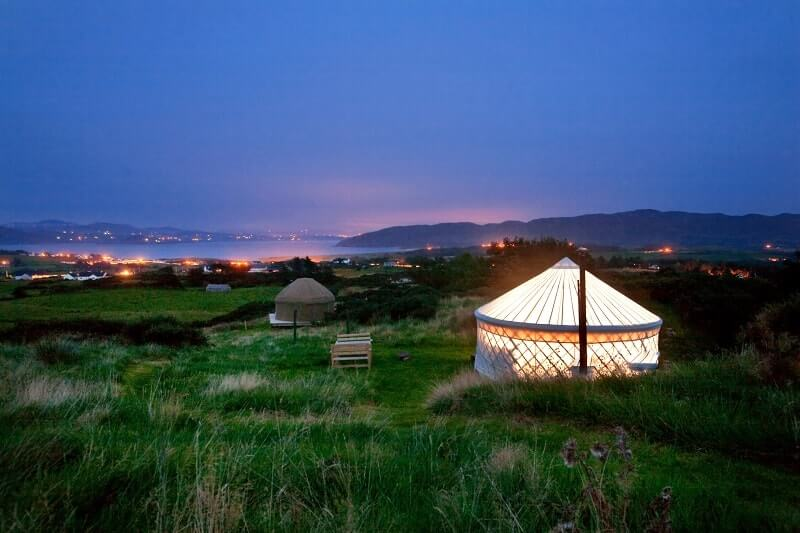 Enjoy the stunning Fanad Peninsula view while relaxing in a hammock at Portsalon Luxury Camping, a boutique campsite on a hillside overlooking Lough Swilly. Enjoy the luxuries of your king-size bed and warmth from the wood-burning stove.
If you rent a bike from the campsite, you can take a trip to Portsalon for a good meal or purchase some fresh ingredients to try barbecuing onsite.
Wild Atlantic Camp, Donegal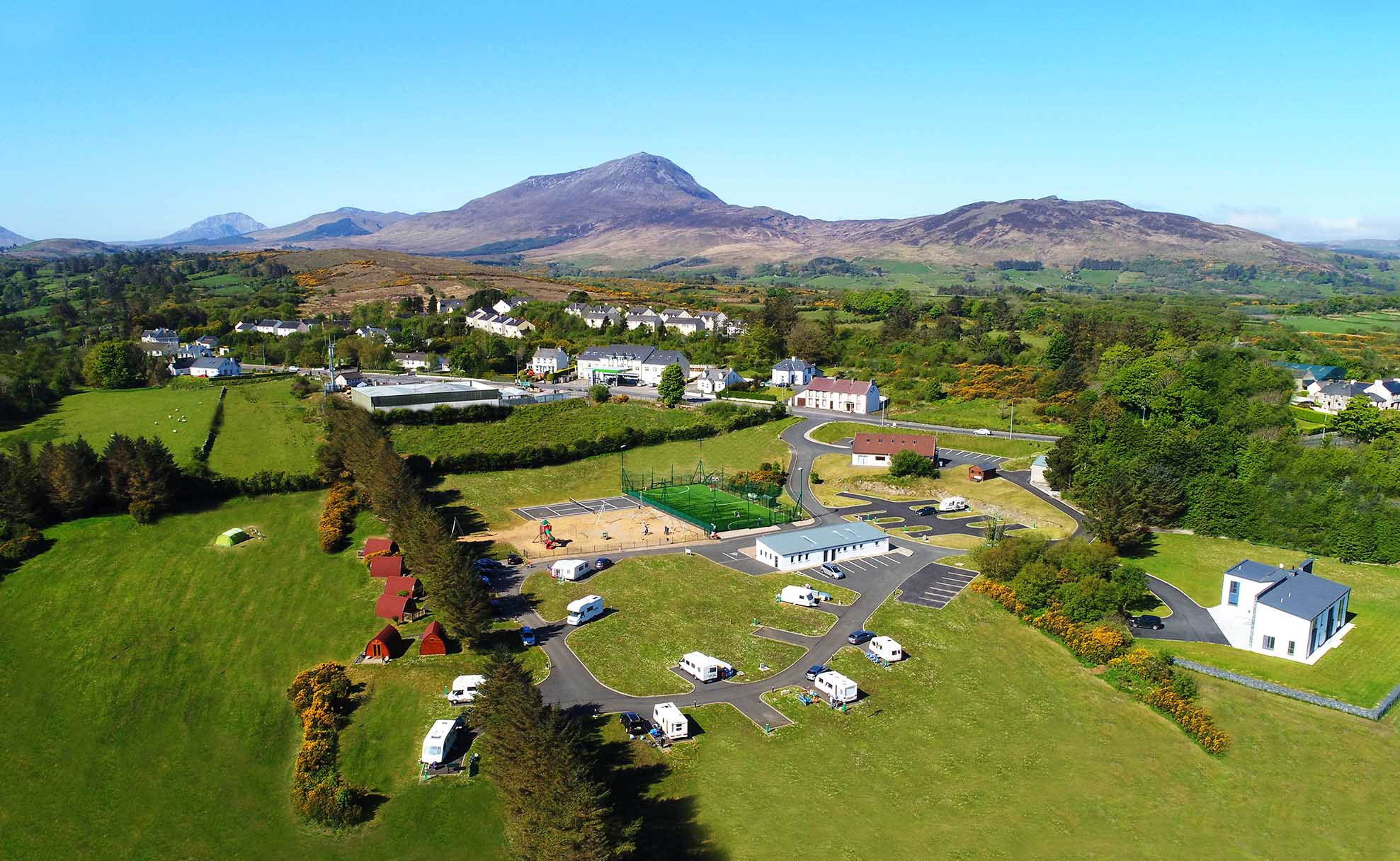 Travellers can visit the pristine outdoors of Donegal to experience the beautiful hikes nearby Wild Atlantic way Camp. Make you stay more comfortable in one of their heated pods or bell tents, or bring your own camping gear for an authentic nature experience. There are numerous attractions nearby like Glenveagh National Park and Ards Forest Park; this is an ideal place to start a journey into exploration.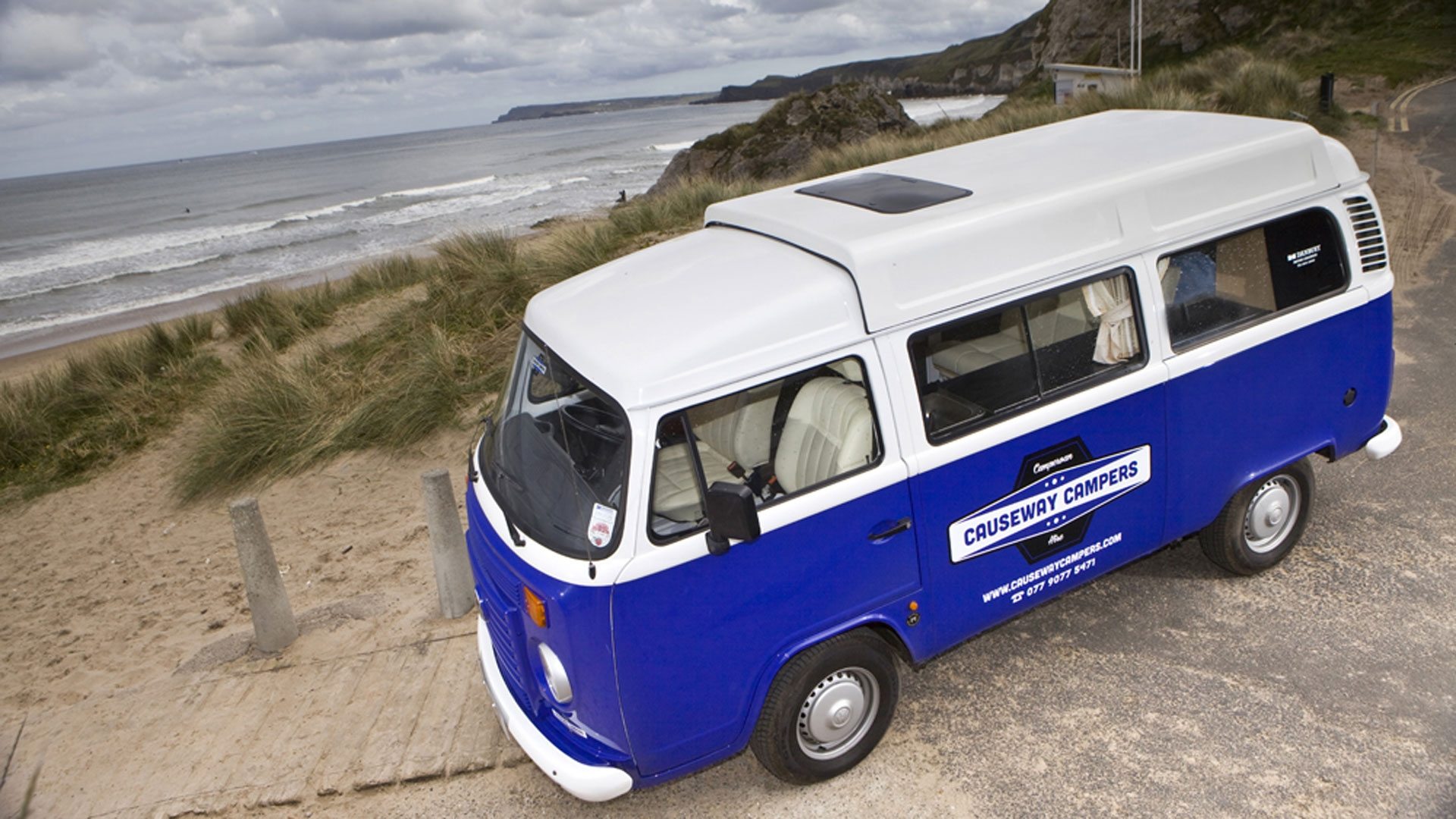 Find A Place to Pick Up Your Perfect Campervan Find By Province Ulster Abbey Caravans & Leisure 285-291 Shore Rd, Newtownabbey County Antrim,  BT37 9RW CallWebsite NI Campers 82 Glenstall Road  Ballymoney Co. Antrim CallWebsite Munster Cara Motorhomes Coolanoran, Newcastlewest, Co. Limerick, Ireland V42 NV34 CallWebsite Assured Autos 3 Ardcross Ct, Crosshaven, Co. Cork,  P43 …
Read more
Glamping at The Grove, Kerry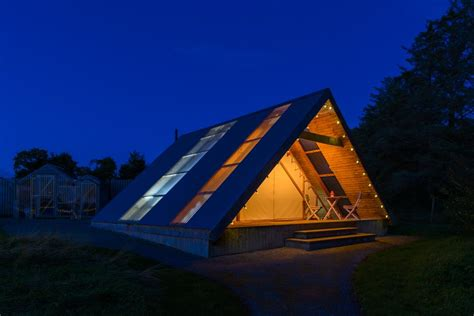 For the ultimate romantic experience, take your partner to The Grove. Relax on the heated patio while cooking a meal in the private outdoor kitchen, then curl up in a plush double bed – exclusively for couples!
Top of the Rock Pod Páirc, Cork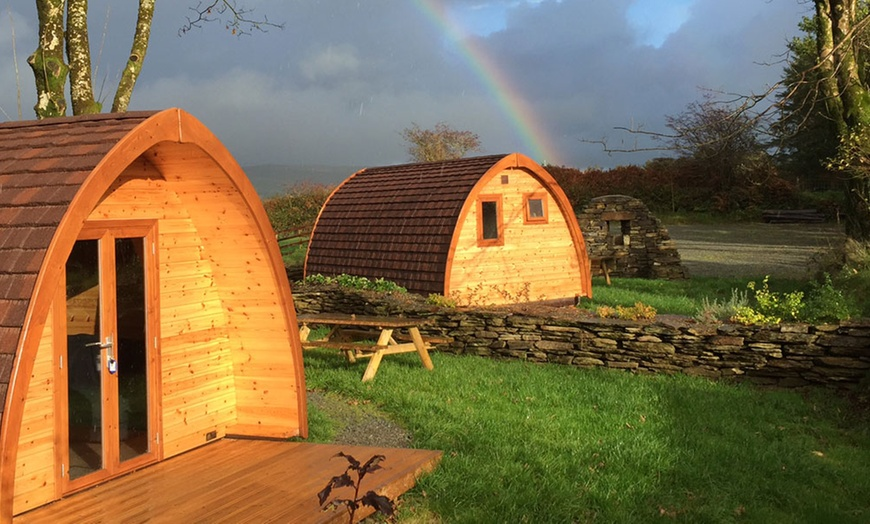 Experience the stunning vistas of West Cork from Top of the Rock Pod Páirc in Drimoleague. You will be amazed at some of the best walking trails in The Rebel County, with the 11km Castle Donovan Loop being a portion of the larger Sheep's Head Way trail. After you're done, reward yourself with one of the seven luxurious pods located around the site.
Chléire Haven, Cork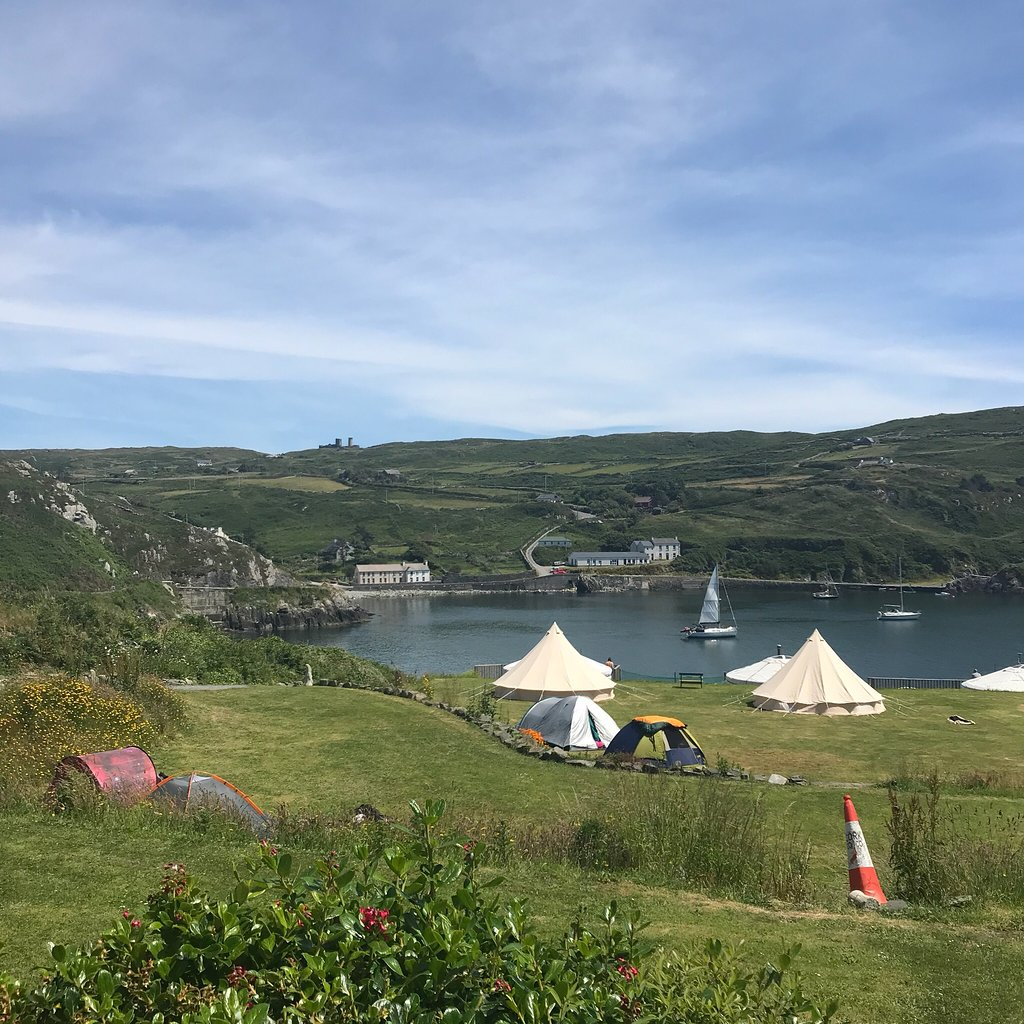 Embark on the voyage from Baltimore to Cape Clear Isle and relax at Chléire Haven. Take up residence in a bell tent or enlist a tepee for a few days out on the coast of Cork. This islet escape is well-supplied with two pubs, an eatery, and an artisanal store. Discern flocks of seabirds from Cape Clear Bird Observatory and potential sightings of whales, sunfish, and leatherback turtles if your luck is good.
Aran Islands Camping and Glamping, Galway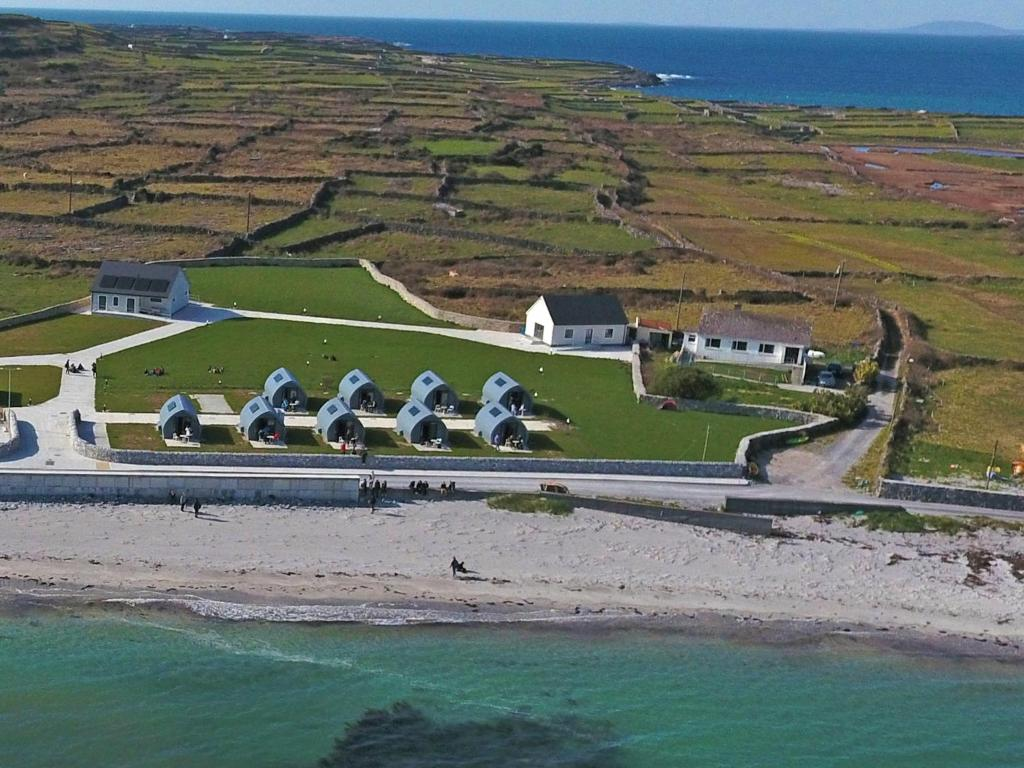 Recall the fond memories of summer holidays spent on the Gaeltacht and take a trip to Aran Islands Camping on Inis Mór. Admire the stunning landscape as you hike toward Dún Aonghasa, Ireland's iconic clifftop stone fort. Enjoy a cosy night inside one of the island's glamping cabins that echo ancient stone huts. The spectacular camping experience in Galway is not to be missed.
Check out this video https://youtu.be/VT3Exx1XZFA
Willowbrook Glamping and Hideaways, Roscommon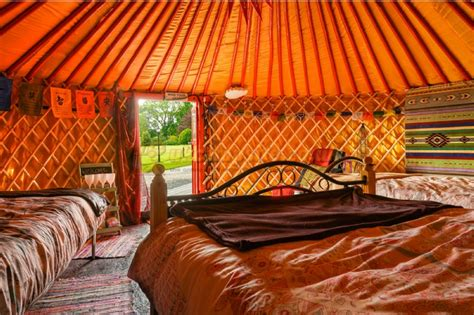 Visit Willowbrook Glamping and Hideaways in rural Roscommon to stay in the unique Yurt Cobain or one of the other quirkily named yurts such as Yurty Ahern. Treat yourself to a relaxing getaway with a private hot tub for soaking!
Podumna Glamping Village, Co. Galway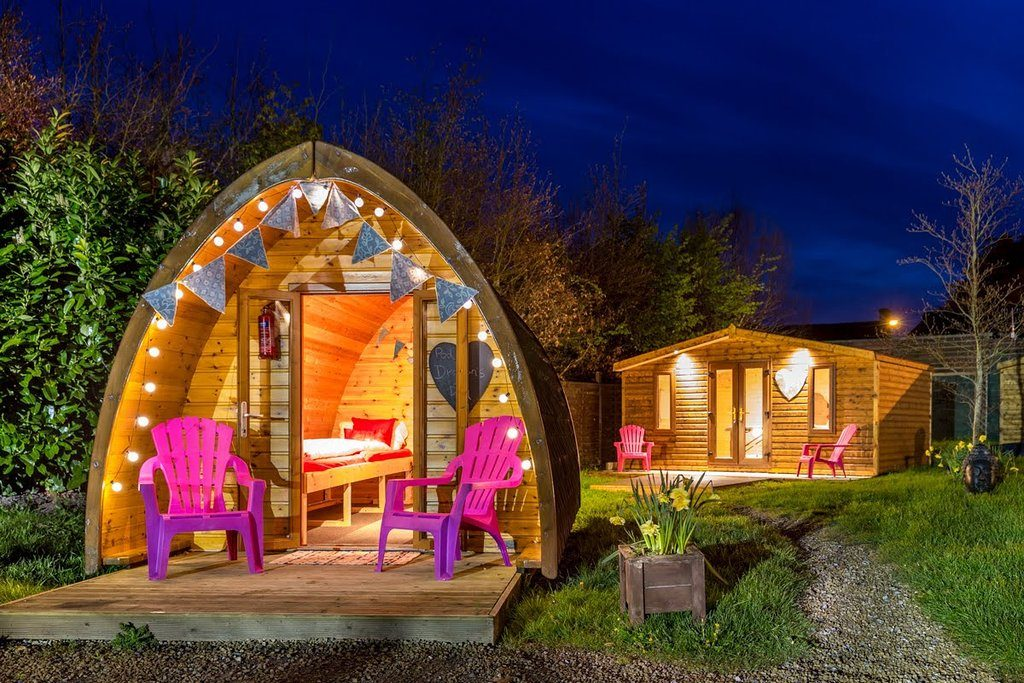 The Podumna Glamping Village offers visitors the feel of a camping experience, with the added advantage of being close to Portumna and the river Shannon nearby. They have a selection of pods, huts and cabins, some sleeping up to six people. 
The Pods come with a luxurious double bed and are ideal for couples, while there are family pods that sleep up to five. All pods are fully insulated and come with bedding, heating, a deck with a barbecue, a table and chairs. Communal bathrooms, kitchen and dining rooms are available. Suppose you wish to have a large family gathering or group event. In that case, you can hire the exclusive use of Podumna Village for a large group.
Rock Farm, Co Meath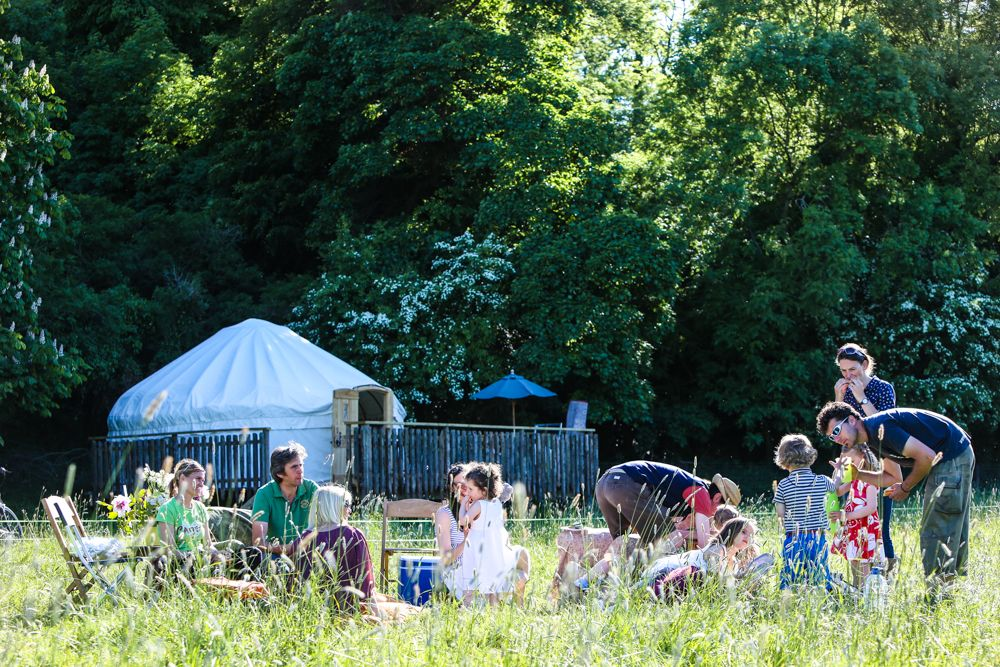 Rock Farm is a cosy, comfortable, eco-friendly glamping site near Slane Co Meath that you cannot help but love. The campsite is located on a wild meadow overlooking the stunning Slane Castle. It offers two shepherd's huts and five yurts for glamping. The centre of Rock Farm is the kitchen, where you'll find yourself the perfect homely vibe. The campsite offers food packs for those who want a break from cooking.
This glamping spot is based on an organic farm and is an ecotourism project. Their ethos is to offer the best glamping experience while protecting and enhancing the local ecology. Rock Farm has a wood-burning hot tub; plenty of activities like rafting, tree climbing, and yoga sessions can be arranged.
Doolin Glamping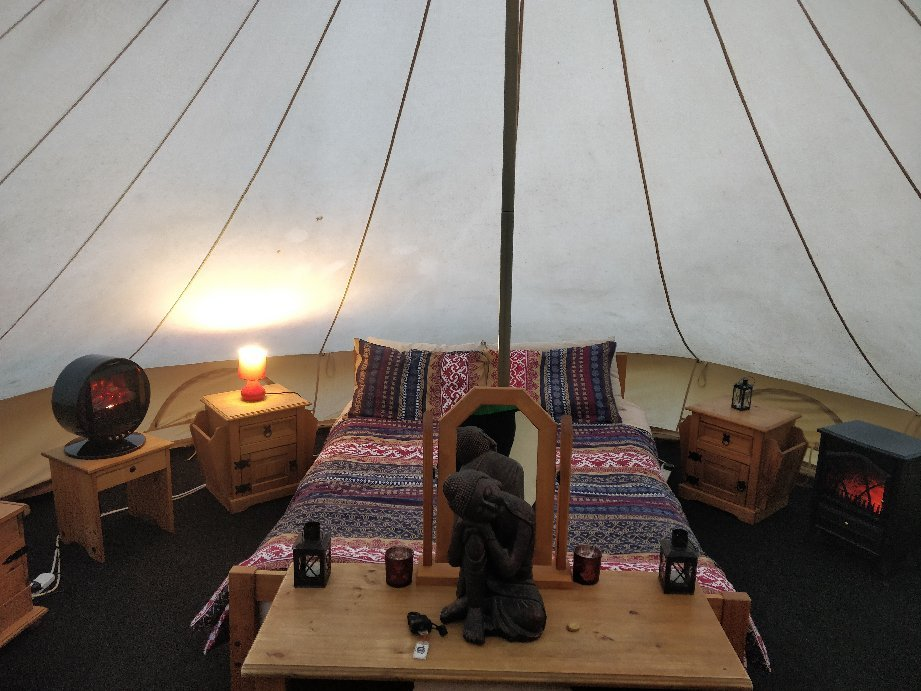 Those that spend a night at Doolin Glamping have their pick of a vintage retro caravan, authentic Indian Tipi, luxury bell tents or a surprisingly spacious Mongolian yurt that can sleep up to six guests.
Whether you're looking for family glamping in Ireland or a romantic weekend getaway, Doolin Glamping offers a unique experience that includes orthopaedic mattresses, luxury bedding and towels, electric stove fires, a communal fire pit and free Wi-Fi in a charming seaside community.
Killarney Glamping (County Kerry)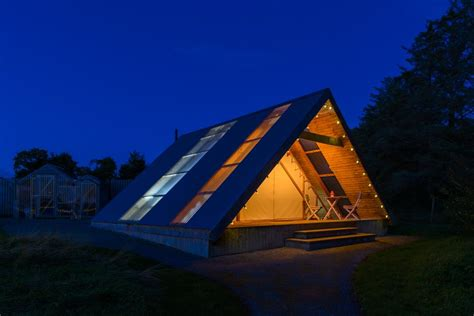 Kerry should already be on your list of spots to visit if you have more than a week or two in Ireland. Just a couple of miles outside of the town, this lovely but straightforward destination is a great base. Killarney Glamping is very much a family affair, a small site with beautifully presented and pleasantly heated tents tucked on top of wooden frames to ensure they can withstand the Kerry weather. Horses live in the nearby field while you get your kitchen area and lovely spa options.
Pure Camping – Co. Clare, Ireland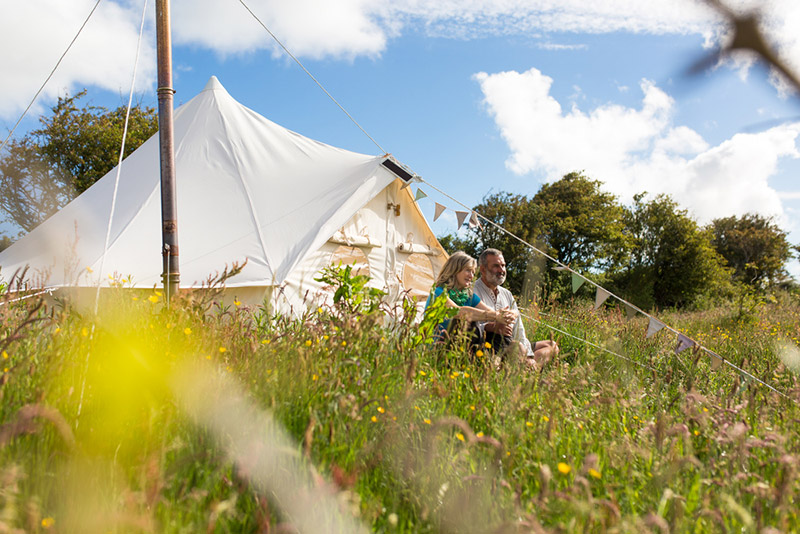 Another glamping site along the Wild Atlantic Way, Pure Camping, is an eco-retreat in Querrin, near Kilkee, Ireland. Just a 15-minute walk away from a shingle beach, the site has two types of glamping units available: Bell Tents and Eco Wooden Cabins. Stay for a night when cycling the Wild Atlantic Way or a long weekend on a yoga break. Find out more – at http://purecamping.ie/.
Pink Apple Orchard – Co. Leitrim, Ireland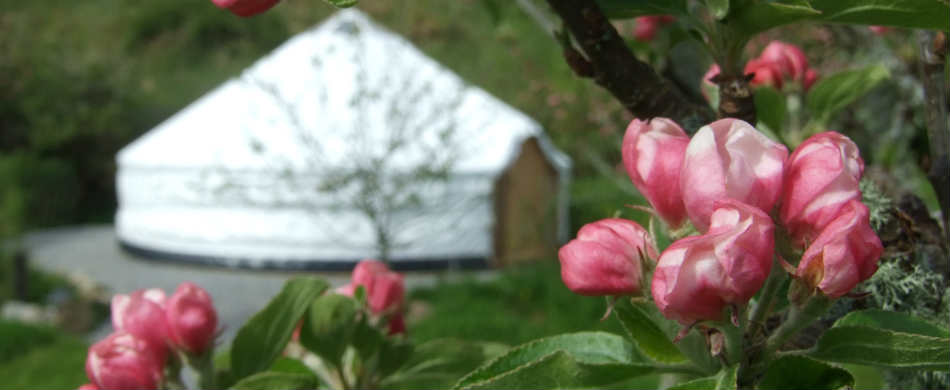 This is a unique Luxury 'Eco' Glamping Retreat in beautiful and rustic Leitrim, Ireland. The accommodation is all custom designed and hand-built, providing an almost otherworldly setting amongst the apple trees. Guests can choose from 1 of 3 yurts, a hobbit house, a Teepee or a Gypsy Wagon. Guests are also encouraged to create pizzas in the outdoor pizza oven! Find out more – at http://www.irelandglamping.com/
Dromquinna Manor – Co. Kerry, Ireland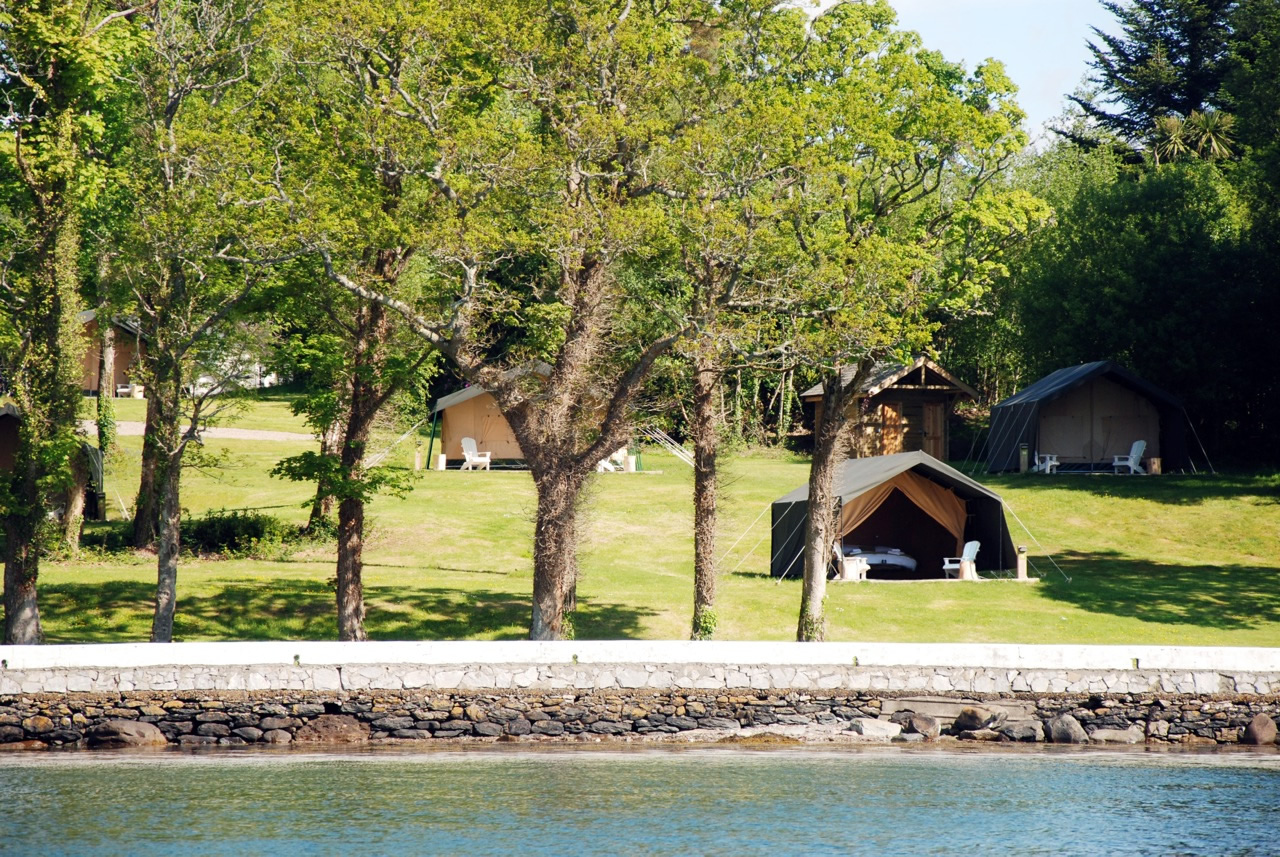 Safari tents in Ireland? You read it right! At Dromquinna, glampers are housed in South African-style safari tents, including one super-luxury tent, The Hideaway, perfect for couples seeking a romantic break. Surrounded by the Irish countryside with plenty to see and do, onsite facilities such as the Boat House Bistro, a BBQ area and table tennis round off the experience nicely.
Finn Lough Forest Domes – Co. Fermanagh, Ireland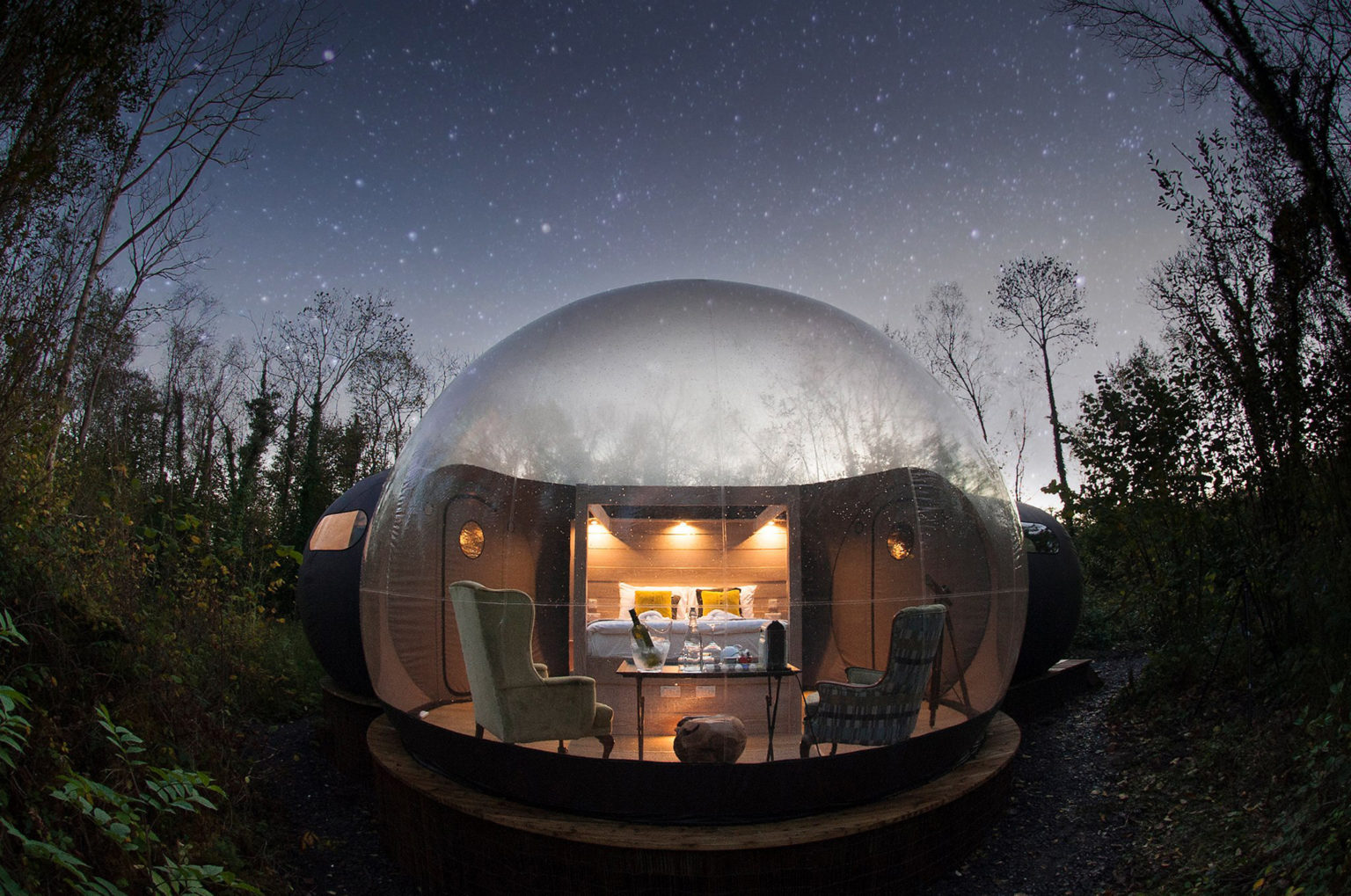 Ireland Glamping meets space-age chic at Finn Lough! Great domes with 180-degree transparent walls mean you can enjoy looking up at the sky at night from the comfort of your own bed! Each dome comes with star maps so you can pick out the constellations in the sky. Meals can be had from the kitchen on the estate. Find out more here – http://www.finnlough.com/.
Belmullet Coast Guard Station – Co. Mayo, Ireland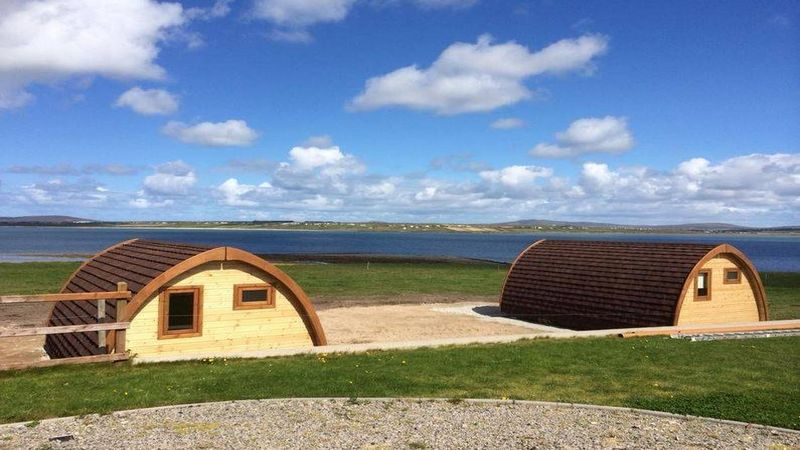 If remote locations in Ireland are your thing, then the Coast Guard station on Claggan Island is an excellent choice. Here, two glamping pods are waiting for guests who want to escape it all. Entertainment will be what you make it, with the fire pit, BBQ, and picnic tables being focal points. Kids will love the animals kept nearby, such as the ducks, donkeys and cows, and there's also a sandy beach within easy walking distance.
Find out more – at http://belmulletcgs.com/.
Wildflower Glamping – Co. Cavan, Ireland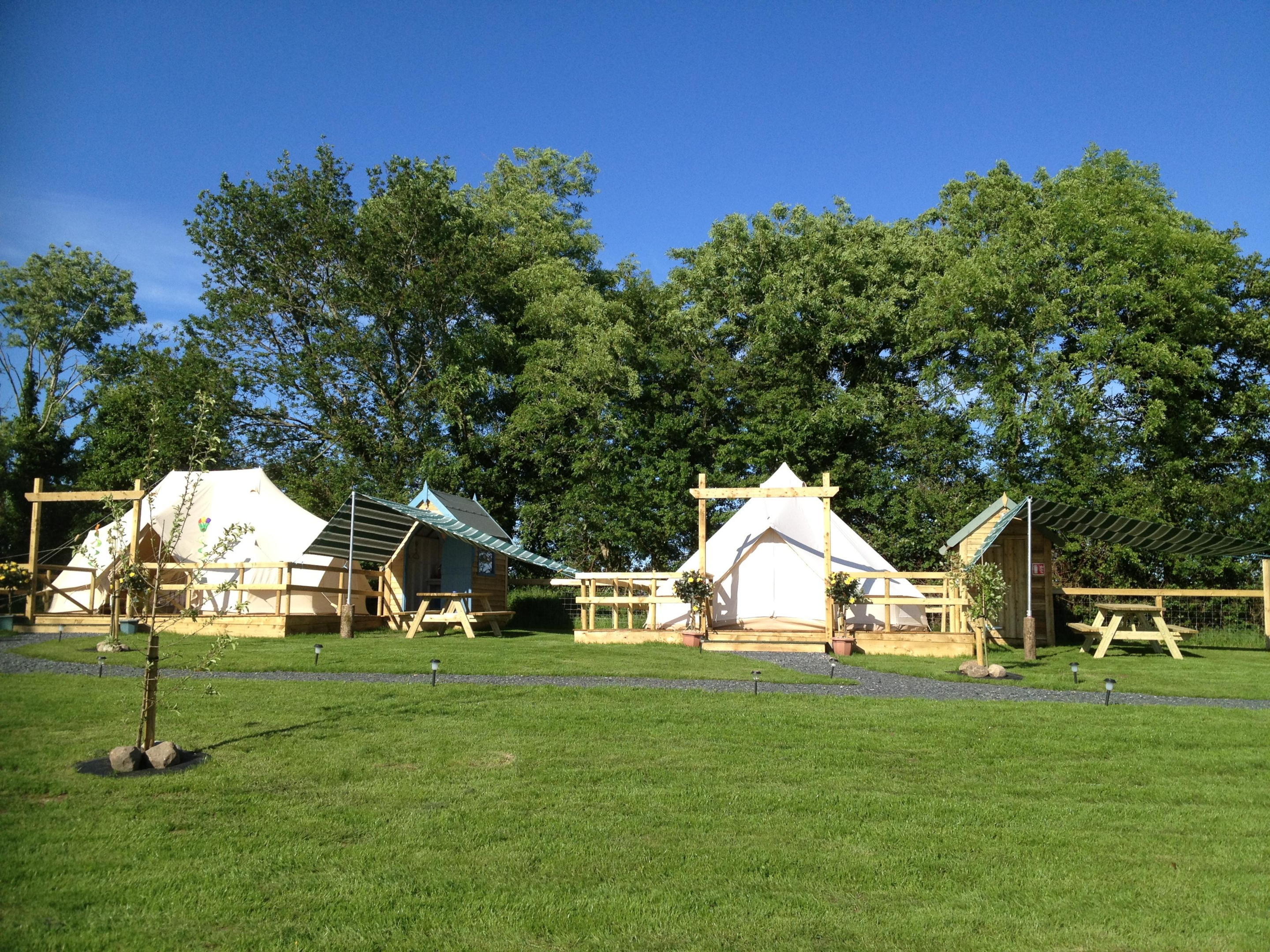 Nestled on top of a hill and overlooking the stunning countryside, this small glamping site has an eclectic selection of accommodations to choose from, including a bell tent, hobbit house, yurt, and Wanderly Wagon-style caravan. Each one has a cosy feel with comfy beds and a stove. The site caters exclusively for families and couples during July and August. Still, outside those months, they can accept groups for events such as team-building sessions and hen parties. Find out more – at http://wildflowerglamping.ie/.
Teapot Lane, Co. Leitrim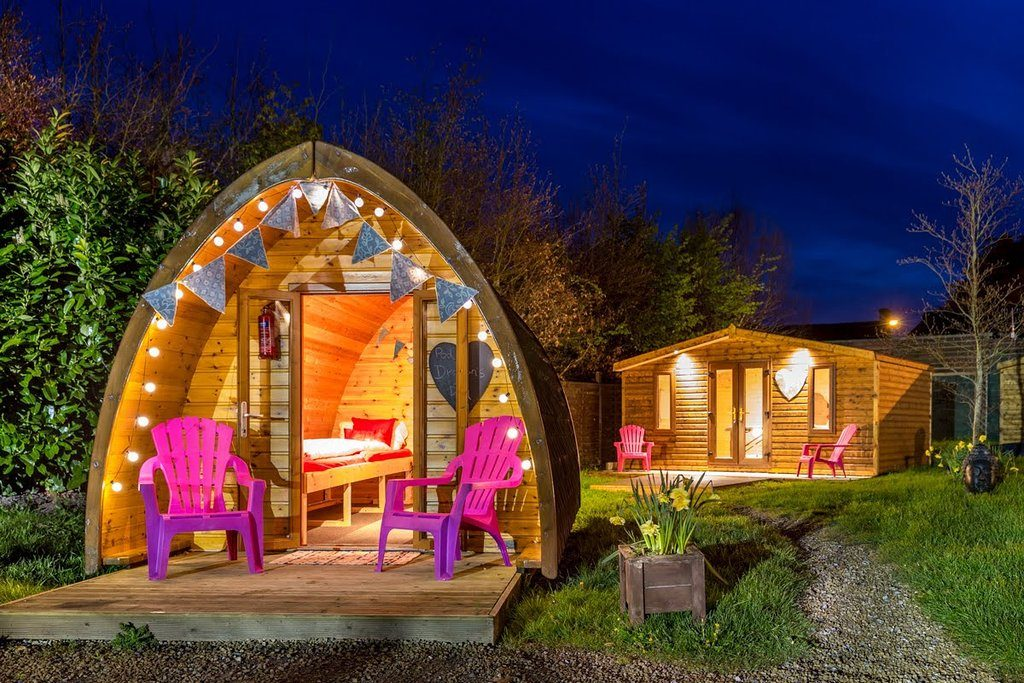 Teapot Lane offers a wide selection of accommodations for glamping in Ireland. The vintage caravan, which sleeps up to two, is their lowest-price accommodation option. Still, it has a small double bed and a Nespresso coffee machine. Yurts are also a popular choice. They are heated, furnished with wooden floors and have a private deck to enjoy a barbecue. Communal toilets, kitchen and shower facilities are located close by.
Have you always wanted to stay in a treehouse? This is your chance! This couples-only retreat is the perfect romantic hideaway, complete with a king-sized bed, a potbelly stove, a wine fridge, and a swing chair to relax and enjoy the view. 
However, Teapot Lane is for more than just couples or families. They have hosted unique Hen weekends for ten years, with meals and activities included. It is BYOB, but they have bars with glasses, mixers etc. If you fancy a night in the city, their complimentary bus will take you to and from Sligo town or Bundoran. 
Butterfly Valley Glamping, Co. Kilkenny 
Butterfly Valley Glamping has located just 2km from Thomastown, overlooking the River Nore in Kilkenny. There are luxury bell tents, wooden pods, and a vintage caravan on site. All accommodation is well equipped with comfortable beds. A separate wooden lodge has a kitchen/dining area, bathroom facilities, and a chill-out area with tea/coffee and board games.
A barbecue and campfire area is also perfect for toasting marshmallows and connecting with fellow campers. Kilkenny is a super choice for a family staycation.
River Valley Holiday Park, Co. Wicklow
Although more like a holiday resort than a traditional glamping site, River Valley Holiday Park has a wide selection of glamping accommodation options, including treehouses, lodges and a Kukoo hut, some of which can accommodate up to families of six. The treehouse has two double beds and two single beds and a toilet, washbasin, small fridge, microwave and heaters.
The lodges are similarly equipped but without bathrooms. However, a communal area is just steps away with toilets, showers, a kitchen, etc. Note you need to supply your own sleeping equipment, such as pillows, sleeping bags and towels, dishes and cooking utensils.
 Numerous activities are available onsite, including kids clubs, mini-golf, a pet corner and an air-soft rifle range – extra charges apply. Regular evening entertainment is held during July and August.
Emerald Glamping, Co Offaly
Image: Emerald Glamping
If you are planning a hen party, you can not book your stay with Emerald Glamping. With their quirky, unique rooms and full-experience packages, you can't go wrong. You can choose whether you want a one-night or two-night stay. Some activities included are sing-a-long at campfires, disco-going, kayaking and archery. The venue can host 15-30 hens parties, all the meals are included, AND it's BYOB, which is pretty great.
On non-he weekends, families and couples are welcome as well, and at most, the site's prettily decorated yurts and tents can sleep 18 people.
More info: Emerald Glamping
Legan Castle Farmhouse, Co Kilkenny
Image: Legan Castle Farmhouse
Located 15 minutes outside Kilkenny, you'll find this 200-year-old, charming farmhouse. The house sleeps six people, and then three luxury bell tents are in the cottage garden. The tents all have king-size beds, Egyptian cotton linen, and hot water bottles to make during chillier nights.
Legan Castle is a foodie haven, and a cooked breakfast is served each morning in the main house. Evening meals are available upon request, equally as tasty as the morning ones.
There are many activities to get up to in the area, like canoeing, horseback riding and fishing – and the Legan team will be happy to assist you in organising day trips.
Stylish Glamping at Ballyvolane
For a chic and stylish glamping experience in Ireland, look no further than Ballyvolane House. Known for hosting laid-back, sophisticated weddings and their small-batch gin, Bertha's Revenge, the Ballyvolane team delivers an exceptionally luxurious glamping experience across bell tents and their unique glamping ark, which includes gourmet breakfasts and the option to have a house party-style dinner in the main house.
ballyvolanehouse. i.e. | Location: Co. Cork
Portsalon Luxury Camping, Co. Donegal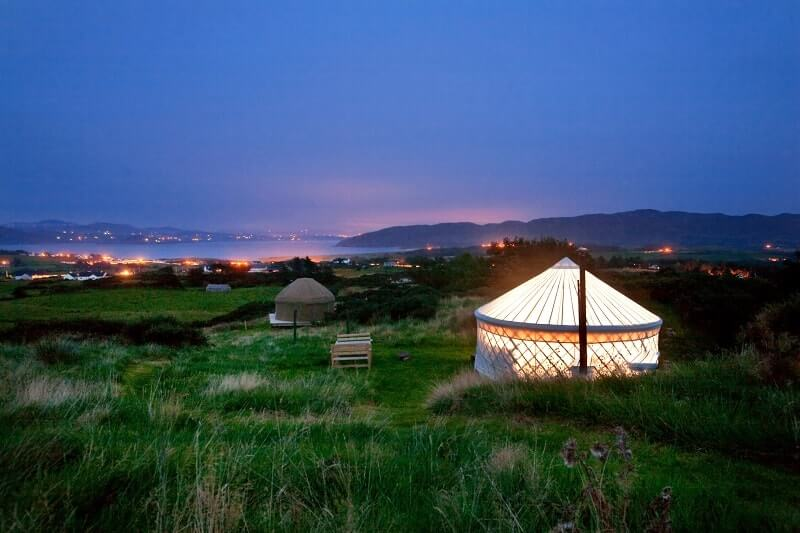 Portsalon campsite is home to five luxurious yurts close to the stunning coast in North Donegal. You are guaranteed a warm, comfortable stay with king-sized beds, wood-burning stoves, and carpeted floors. The outdoor decking comes with a hammock, fire pit, barbecue area, and stunning sea views.
Communal bathrooms and kitchen facilities are available beside the yurts, with 24-hour complimentary Wi-Fi public.
Larchfield Estate
A very unique place to go glamping in Ireland: Via Larchfield Estate
We're in Antrim again for our next spot. Welcome to Larchfield Estate (20 minutes from Belfast City and 90 from Dublin). A place that's home to a truck I'd happily live in. 
The 1952 Saurer Swiss Army truck has been spectacularly adapted and crafted to create a romantic glamping escape.
Those of you who spend the night here can chill in front of a log-burning stove during winter or flake out on the sun deck when it's a little warmer. Oh – there's also a sauna… yes, a sauna.
Hobbit Pods on the Wild Atlantic Way
If you're looking to dip your toe into glamping in Ireland but don't fancy kipping in a tent, these hobbit huts in Mayo should tickle your fancy.
Built into the hillside, these quirky dwellings have a turf roof and proper beds that sleep four.
Ideal for walking and cycling holidays, this glamping site is a 5-minute drive from the National Museum of Country Life and a stone's throw from many other attractions on the Wild Atlantic Way.
A Wagon in Galway that's perfect for family glamping.
These colourful handcrafted gipsy wagons look like something plucked from a film set. This is one of Ireland's more unique glamping sites, and it's likely to appeal to families with small kids.
The wagons, found in Loughrea in Galway, are parked near a fairy garden with a hot tub.
That visiting can expect pull-out tables for meals and games, benches, a pull-out double bed and a raised single bed, and an electric heater. Forest views, a playground, animals, bicycle trails, and a restaurant are also nearby. 
A Little Tipi in the Hills
Another one for Donegal. Few glamping sites in Ireland are as immersed in the scenery as this little Tipi near Ballyshannon.
You'll find the Tipi in the beautiful forest of the Knader, surrounded by deep lakes, mysterious mountains and plenty of lush fields.
If you want to take a break from the hustle and bustle of city living, get yourself here.
Rossharbour Resort
Photo via Rossharbour Resort on Facebook
How does kicking back in a sauna or a hot tub overlooks the magnificent Lough Erne in County Fermanagh sound?
If this tickles your fancy, you must get to Rossharbour Resort. It's home to luxury lakeside lodges that offer a mighty view of one of Ireland's finest lakes.
Rossharbour is also an excellent base for exploring Fermanagh (Cuilcagh mountain is under an hour away), Donegal (the castle is a half-hour drive) and Bundoran (a 25-minute drive).
Tepee Valley in Armagh
Overlooking farmland and the Cusher River, Tepee Valley in County Armagh offers a variety of glamping accommodations.
Visitors can choose from Native American tepees, yurts, a log cabin, a shepherd's hut, a geodome (I've no idea what that is…) or a gipsy caravan.
These glamping pods come with a fire pit or chimenea that'll delight cosy evenings spent chatting and cooking meals on the campfire.
There's plenty to do nearby, including karting, horseriding, great walks, a planetarium and several museums.
Chléire Haven – Cape Clear Island, Co. Cork, Ireland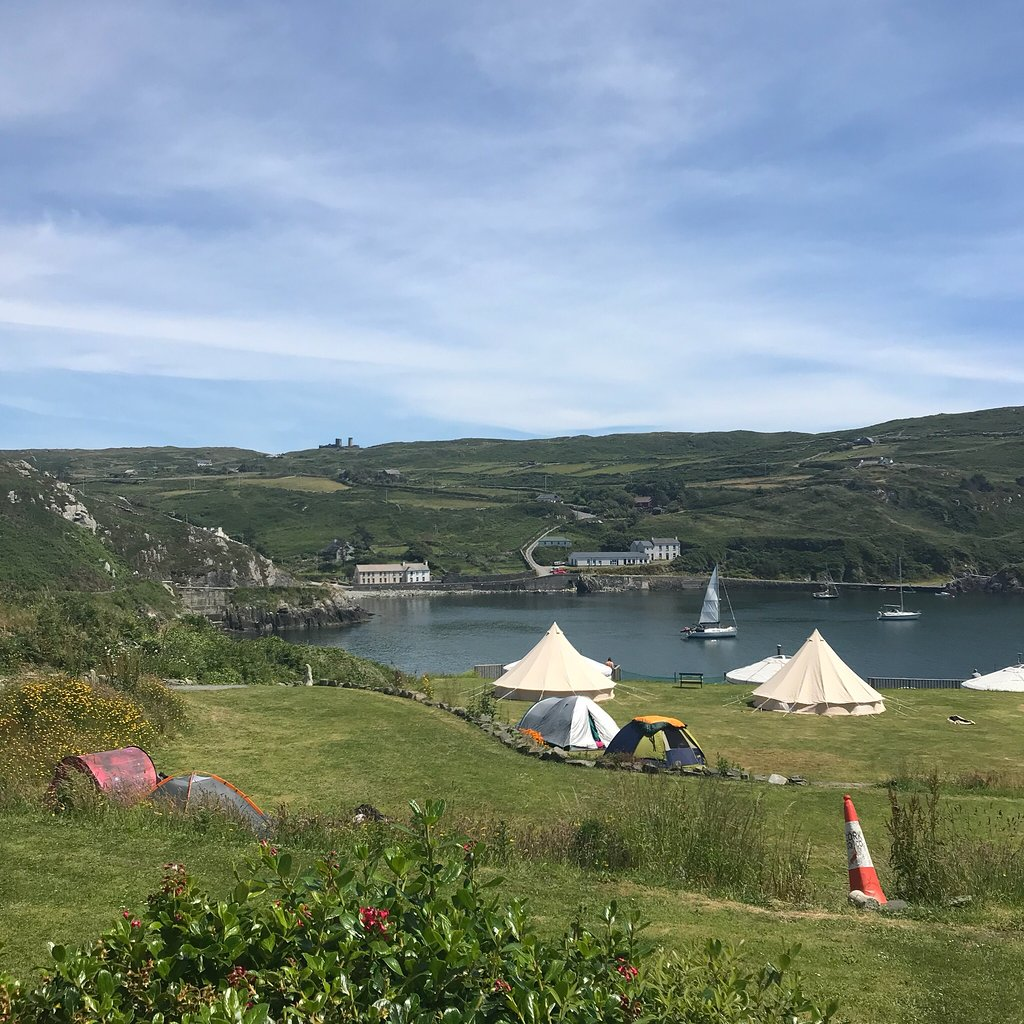 Mongolian Yurts and Teepees provide glamping accommodation on Cape Clear Island. They are fully kitted out with beds, mini-kitchens, and wood-burning stoves; they make a fantastic place to stay for anyone interested in getting closer to nature. Outdoor activities include hiking, kayaking, and even snorkelling. The local pub and tea rooms provide warming refreshments after a day's exertions. With a strict policy of no noise after 11.00pm, this glamping site is a good choice for families who wish to go Glamping in Ireland.
Find out more – at http://yurt-holidays-ireland.com/.
Glamping Under the Stars (County Laois)
Irish festival-goers know this particular spot for its location down the road from the country's most extensive musical offering, Electric Picnic. Unless you're heading to Stradbally's most nuanced, try to avoid the first weekend of September. However, this family-run rural corner has a kind of thrown-together rugged feel the rest of the year. Still, it also provides luxury bathrooms, a fire pit and pleasant dining corners. Horse riding is the big thing nearby, while glamping Under the Stars' kid-friendly tents has plenty of cushions and mini-beds for the little ones.